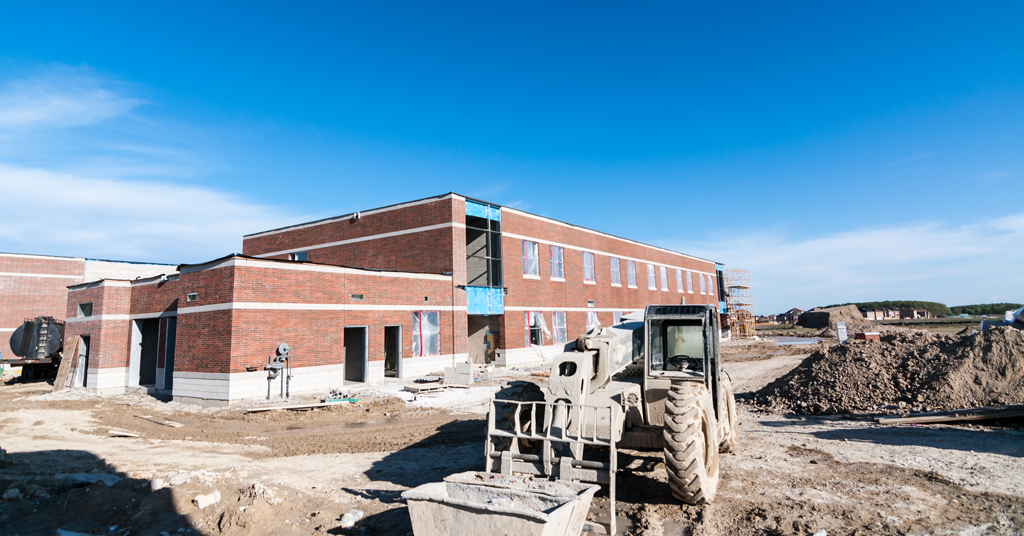 Public schools drive the local economy. You will find a booming economy in the communities that have thriving, public schools. With that said, the current physical shape of our public schools in America is upsetting. 
Many students are attending school in buildings that are older than their grandparents. Recent studies prove the crumbling state of our local schools. 
Communities understand the need and are working to either build a new school are remodel their old buildings. 
How can you find these school construction jobs? If so many schools need repair, what do you need to do to find the school construction lead? 
You can find a school construction lead with the right kind of sleuthing. If you build up your skills as you look, you'll be an even more likely candidate for the job. Keep reading to learn about the things you need to do to find a school construction lead near you. 
Register With the Right Places
Whether you're new to the construction business or have been swinging a hammer for decades, you will not find the leads you want if you haven't put your name in the right places. 
Take time to register your business with the Central Contractor Registration Database. The US Federal Contractor Registration will help you fill out your SAM Registration. 
SAM stands for System for Award Management. SAM is basically a portal run by the US government. When you register your business with SAM, you put your name out there for government contracts such as local schools, and you prove you're interested in working with the US government. 
When you work with and register with the US Federal Contractor Registration, you receive a Verified Vendor Seal. This seal is the golden ticket to government contracts such as school building projects. It lets local public entities like schools know you have a valid, active, and complete SAM registration. 
Set-Asides
If you're a small business, registering with US Federal Contract Registration just makes sense. This registration helps with other parts of government contracting. If you have a women-owned small business or a veteran-owned small business, the USFCR will process your registration for small business set-asides. 
A small-business set-aside is a contract in which the government limits competition specifically for certain small businesses, such as women-owned or veteran-owned businesses. The set-aside will level the playing field and give small businesses a better chance to compete for and possibly even win federal contracts. 
Use Lead Services
Registering with USFCR and SAM will qualify you to work on government projects such as schools. However, it does not necessarily bring construction lead jobs to your front door. You still need to do some searching. 
So look into using a lead service. A lead service is a software or company with a healthy database of construction leads. 
A good lead service will help you find jobs in all parts of the country. A quality lead service will have advanced search options so you can find your specific job quickly and not spend hours weeding through jobs you do not qualify for. 
Here are a few ways a filter can help you. 
Facility Type 
You need a filter that helps you find the particular facility you want to build on. You can find and land a bid if you specialize in that kind of build. So if you want a school build, then specialize in schools. 
A good service will help you find the building that you've made your specialty. Once you choose the criteria for your needs, you should receive alerts via email to let you know there's a lead for you. 
So while you should keep looking for leads, a good lead service will work for you and save you time and energy. 
Location by City or State
If you have a construction company located in California, a school construction lead in Pennsylvania does you no good. A good lead service will filter out bids geographically. 
All potential projects should have at least one phone number and contact name as well. This way you can contact the lead immediately. 
Company-Specific Projects 
Select a program with a healthy database of jobs. You should be able to filter your options by building specifics. This way you do not end up bidding on a job that you have the skills to do. 
Once again, a good lead-finding program will send you email alerts customized for your particular search. So if you're a company that wants to focus just on school construction leads, the program will search the database just for schools. If you are looking for HVAC contractor construction job leads, you'll find those. 
Syncing Ability
A good lead service will work well with your current software. You should be able to transfer leads to your customer relationship management system easily. You will never miss a construction project lead again when the program lets you sync with your own system. 
Sorting by Status
A good program will also sort your options by status. Not all projects are in the same phase when you're looking for them. A good lead company will have a multi-layered database that will prioritize projects according to your needs. 
This way you end up receiving notifications about the project you can bid on, whether it's in the pre-bidding or bidding phase. 
How to Become a Construction Project Manager
If you've always dreamed of becoming the construction project manager of a school, you just need the right opportunity. If you already have a background and education in construction, you're well on your way to being the man or woman in charge of the project. 
When you score a school construction lead, you have found one of the jobs that lead to becoming a construction project manager. 
Your experience and education will get you partway there. Certification will show you're serious. It will set you apart from the other candidates applying for the contract. 
Both the American Institute of Contractors and the Construction Management Association of America allow members to earn construction project management certificates. 
The CMAA offers a Certified Construction Manager course that requires applicants to have experience before they apply for the exam.
The course and certificate are more than just a piece of paper, though. You will learn how to handle just about anything a construction manager could encounter. They will prepare you for the job you want. 
As you build your resume of experience and work on becoming certified, focus on building the qualities of a project manager as well. Here are a few of the qualities to focus on in your personal and professional life: 
Time management: You should understand how to manage your time to meet deadlines. 

Communication: Practice using clear, direct communication. 

Ability to motivate others: You will have many people under your management. Understand how to make their work lives better to motivate them to work harder. 

Conflict resolution: Understand how to resolve the problems that might arise. Practice with any conflict in your own life and business. Look at conflict as an opportunity to improve rather than a sign of a problem. 

Problem-solving: You will have to deal with things out of your control, like the weather. Focus on solving problems rather than despairing over them. 
Skills like these will set you apart and make you ready for any project management job. 
Use a Contract Location Strategy
Develop a strategy that helps you locate contracts. The SBA and government will contact you will "full and open competition" notices. However, these are the same notices that other contractors will receive. 
Thus you need to create a contract location strategy. Then follow through with those leads regularly. 
Focus on a specific, geographic location. Look at the opportunities you find and search out the person in charge. Then make an appointment to meet them so you can introduce yourself and your business face to face. 
Focus on making a good impression so the man in charge remembers you. The right integrated marketing tools will help you take your business to another level as well. You should find a lead-generating service that helps you track and organize your leads with simple data charts. 
Features like a simple, one-touch download to Excel will make information clear and organized. 
Use Your Resources
If you're a small business, then register with the Small Business Association. You will be competing with other small businesses, so you want your name in the database to compete adequately. 
Plus, a school contract is a government contract. You will need to be registered with the government to be able to compete adequately. 
The SBA website has information that will teach you about the bidding procedures. As with all things government-related, bidding on a school construction project comes with rules and regulations. Not knowing those guidelines will disqualify you from the contract. 
Plus, if you are truly a small business, meaning your average annual receipts run from $14 million to $35.5 million, you will compete with just small businesses. You will have a better chance of landing the contract. 
Know Your Business
If you want to score a school construction project, become a specialist in school construction. The more specialized you are, the more likely you are to get the contract. 
Group Projects
For example, you will quickly learn that renovations projects at school mean you will work with a committee and not a single individual. Often schools have a renovation committee with diverse members. You may be working with teachers, staff, and parents. 
Plus, you will be working outside of school hours and times. Plan on a summer project. 
Asbestos Mitigation
Since so many schools in the United States are aging, you should also understand the environmental hazards in old buildings. You will deal with asbestos if you renovate a school.
You cannot mess with the asbestos on your own. You need a licensed and trained asbestos abatement professional to perform all activities that will disturb asbestos-containing materials. 
Radon Testing
If you're working with an HVAC system, plan on conducting radon testing after renovations. Renovations can alter the dynamics of HVAC systems and affect these dangerous levels, so plan on checking them. 
Vapor Intrusion
When your renovation project plans on expanding a school, make sure you have no source of vapor intrusion within 100 feet of the project. You will have to plan on a mitigation method if there is a vapor intrusion. You can also leave the current vapor intrusion mitigation system in place. 
Chemical Disposal
Have a chemical disposal plan in place. You will have to clean out and relocate chemicals in the school. Have a plan in place for where to put those chemicals or what to do in case you have a spill or an emergency. 
Green Projects
Be a forward-thinking contractor. New buildings and school renovation projects allow schools to reduce their carbon footprint. Look at environmentally friendly ideas like energy-efficient systems, green building practices, and sustainable products in the build. 
Renovation Regulations with Children
Whenever you work on a building that children occupy, you must follow the renovation, repair, and painting rule. You will need an EPA certified lead-safe contractor to perform special abatement procedures if you have lead-based paint in the building. The expert will prevent you from generating dangerous lead dust and chips when you perform demolition. 
Don't Go Alone
To find the best school construction lead, you should seek out as much help as you can. Register with the right entities to put your name out there. Introduce yourself to the people in charge of local contracts so you get your name out there. 
Then look into services that help you find leads. This way you can focus on the job of construction and improving your trade. 
Sign up for the service that best meets your needs. We have tiered prices and services so you can get the leads you're looking for.
Sign up for a test drive today. We will hook you up with the school construction project of your dreams and help you make an impact on a community.
Have questions?
Call: 855.874.1491
Email: info@construct-a-lead.com
Chat: Send us a message by using our chat widget in the bottom right corner of your screen.