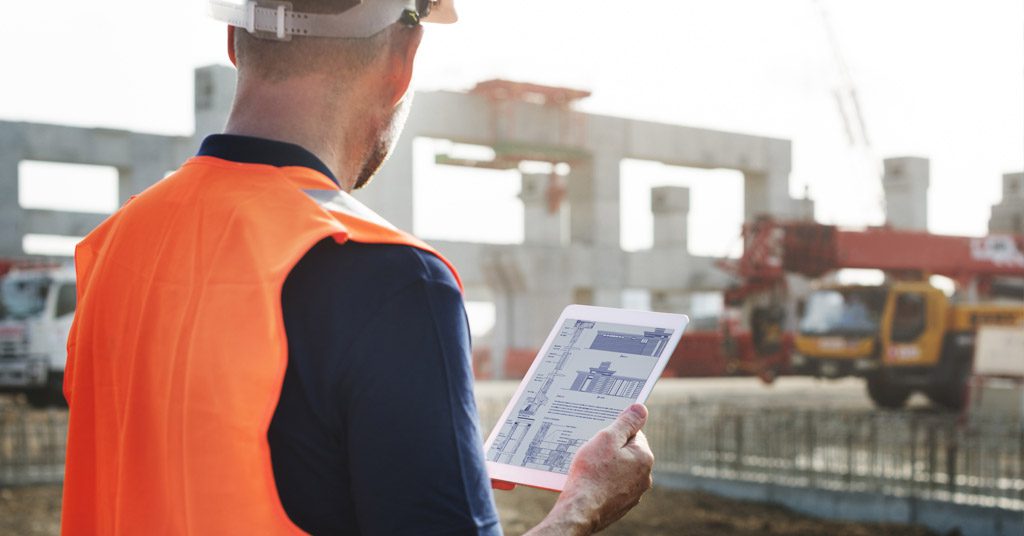 Who knew that, when you took on a lifetime of working with your hands (and expensive tools), you'd also have to maintain a certain mastery of the English language? 
Well, the key to a winning construction bid is clarity in your writing. You want to remove as much jargon as possible and set out the lay of the land in a tenor and tone that your future client will understand. 
In a moment we're going to discuss construction bid key points, like the scope of your work and the budget, but we really want to stand firm on the need for clarity and precision in your writing. 
Together, let's fire up your fingertips and walk through how to make a construction bid that will make your pricepoints, offerings, and great communication skills hard to beat.
We'll begin with some grammar basics and then move onto important points for inclusion like limited liability and payment terms. 
Basic English
Okay. This may come off a little snarky. But, really. Don't you think your customers want to be able to read your bid with ease? If the simple act of engaging in a relationship with you is frustrating, how likely are they to want to continue with you? Not very.
And, yet, we see it time and time again. Construction companies forget that the bid needs to be written from the customer's perspective, not theirs. As such, it's very important to use simple, standard terms. This is, without question, the king of all construction bid tips. 
Avoid industry jargon and any words that you suspect the customer may not understand. If this is, at times, unavoidable, then provide a short and succinct definition for tricky terms throughout your bid.
People are going to get suspicious if you try to "talk over them" or use five complex words when one simple one will do. So, keep it clear, concise, and simple.
Now's not the time to flex your industry knowledge and big vocabulary. You've (hopefully) already done that through your marketing efforts, company website, and blog. 
Appendices
Your customers don't necessarily care about appendices, but they do care about ease of reading. And this is something that a few appendices can do. Don't be afraid to expound upon some of your key points for construction bids in an attachment. 
Instead of cramming in your full estimated budget, including, for example, the breakdown of necessary labor, you might include a streamlined version within the body of the proposal and then ask folks to refer to Appendix A, B, C, etc. 
This is perfectly acceptable and there's no smoke in mirrors here. It's just putting forth the summary of all points within the body for easy reading while getting down to the nitty-gritty in the appendices for clarity and transparency. 
Contact Information
Okay. We really needed to hammer in the importance of simplicity. With that firmly planted in your mind, let's get down to brass tacks. The first thing you'll include at the top of the document is all your contact information. 
Include all the contact information for your construction company, as well as the potential customer. This includes names, phone numbers, addresses, and email addresses. 
Underneath that, list the name and address of the project itself. You can liken this to a cover letter where both parties list their contact information. Just don't forget the project details, as well.
Project Scope
With that out of the way, it's time to get into the literal details. Within the project scope, you can include a summary and set expectations.
Feel free to create a subheading within the scope titled, "Project Summary." Use this as an opportunity to sum up what's about to be completed in two to three sentences. Summarize the project, as well as the work your company will provide. 
Underneath that, break out another header titled "Expectations." Here, you can outline the most important features for your potential client. Describe the worksite expectations, including details like the number of bathrooms, the water situation, exterior lighting, etc. 
This is also the best place to get into safety expectations. Indicate who's allowed on the worksite. List the required safety gear that must be worn at all times. You can also indicate what should be done to protect residents in the area surrounding the worksite. 
You'll also want to be clear about cleaning the site upon completion. Who's in charge of that task? Will you hire a cleaning company? Will the client have to do that? This is a very important expectation to include at the end of your project scope. 
Current Conditions
Consider this to be a bit like the paperwork that's included when you rent a new apartment. The leasing company annotates the current condition of the space. Maybe there's a missing door handle on the storage closet or something along those lines. 
This keeps everyone protected, so no one can point fingers when it's time to move out. The same needs to be done – in explicit detail – before commencing any work. 
Document all the existing conditions at the worksite. This will keep you from being charged with breaking the hinge on the garage door, etc. 
It's actually alright to list defects early on because you can offer to fix each element. We like to break this out into four columns. List the item, its condition, the required action, and the party responsible for the fix. 
Like the expectations, the clearer you are here, the greater the chance of success for all parties. Strong communication from the beginning will be a security blanket for both the client and your company. 
Budget
This is where you'll roll up your sleeves and pull out your calculator. You need to provide an estimate for the entire project here. Typically, there are three categories: materials, labor, and miscellaneous. 
Annotate the number of materials, the type of material, the rate, and the totals. The same for the labor. Annotate the number of hours, the type of labor, the rate, and the totals. Your miscellaneous category may include any costs the client would incur if the project should go over scope. 
This is your opportunity to include the entire breakdown here (or in one of your appendices). The choice is yours. Just be sure to, again, keep the language simple and be extra cautious to speak in a manner that doesn't leave the customer wondering if they're getting hoodwinked. 
Payment Terms
Once the client finds your budget agreeable, it's time to discuss the exchange of money. Many contractors like to frontload their estimates in order to be paid more upfront. If that's your desired course of action, just be clear about that and – whatever you do – don't ask for too much upfront. 
In this section, you can list the upfront cost as your initial payment. You can set a dollar amount or call for a percentage of the total cost.
Set a date for this payment and indicate how you'd like to be paid. Like everything else, the client doesn't want to feel confused about how and when to fork over a considerable amount of cash. 
After the initial payment, you can set two to three more payments. You can simply call them Payment #2, etc. Your last category will be the Final Payment. This, of course, can be paid out once all is said and done, including the site cleanup. 
Schedule of Work
If you're going to set milestones for payments, you also have to set milestones for the completion of your work. Here, you can kick things off with the project start date. 
After that, you may choose to select important milestones. Just like you had Payment #2, etc., you can also have Milestone #2, etc. As you indicate, say, three or four milestones, be sure to take several factors into consideration. 
Consider the time it'll take to secure permits, receive supplies from manufacturers, and work around bad weather conditions. Consider any client tasks that may cause delay, too, like their approval timeline and ability to preview the site. 
Don't be shy to assume a limited amount of liability for events outside your control like permits, zoning issues, order shipments, and bad weather. This should be completely understandable and something you'll certainly want your potential client to sign off on. 
Signatures & Date
Finally, the client's going to want to see your signature on the dotted line as an assurance. Even the best construction bid is incomplete without this portion.
Your customer is going to want to know that you're locking them into a certain budget (and aren't going to throw in any unexpected doozies along the way). 
You can include a formal statement here, right above everyone's signatures. You might write something like this: 
The undersigned, after having carefully reviewed the required specifications for the above project and becoming fully aware of the conditions required for completion, propose to provide all materials, labor, and services for the bid sum of $45,775.00.
Then, you can annotate the number again below, sign it, and include the date. This is a great way to kickstart any and all of your relationships with clarity, transparency, and accuracy. 
Sometimes, the act of drafting a proposal only to have it rejected can leave you feeling dejected. However, when you consider the possibility of winning ten thousand dollar jobs here, forty thousand dollar jobs there, and a hundred thousand dollar jobs there, you have to consider that it's all worth the time, effort, and attention that goes into this process. 
Keep It Clean
Now, this is a lot to keep in mind for each and every proposal. But, fear not, there are a lot of software options out there to help you seal the deal.
Many of them are full-blown project management software packages but, of course, that's going to include the initial stages of building a winning construction bid. 
Many of these packages go on to become wonderful tools because they can streamline communication with clients, maintain financials with ease, and illustrate timeline details.
We've seen a few and have thought they're a bit like virtual assistants. Take a look through the multitude of options out there. You'll find one that sits right with you and carries you through all your future bids and projects. 
Create a Great Construction Bid Today
And there you have it. We believe a winning construction bid boils down to clarity and precision. Remove every ounce of jargon and insert every ounce of transparency.
While you can't foresee everything that will happen from start to finish, there are plenty of construction bid key points that you can include for everyone's peace of mind.  
When you're ready to start searching for all those bids you're going to win, we invite you to come on over and see what we're all about. Here at Construct-A-Lead, we make it easy to find the exact construction lead you've been searching for. 
Our data mining experts bring only the top bids to your doorstep and our programmers have designed our site so you can use advanced filters to search by locale, project type, bid stage, and more. 
Our detailed reports include some of the important elements you'll include in your bid. You'll be able to pinpoint key contacts, scheduling information, total costs, and more. 
Take a free test drive today. We invite you to view five projects for free. Partake of our full national version, a vertical market overview, or our state edition.
We know you'll find projects you'll want to bid on and, with all the right headings and subheadings, we're confident you'll win bid after bid. Until then, we wish you all the best and look forward to partnering with you!
Give our database a spin. Take a look at five project bids FOR FREE and then make a decision about whether a long-term relationship with Construct-A-Lead will pay dividends to you and your employees.
Have questions?
Call: 855.874.1491
Email: info@construct-a-lead.com
Chat: Send us a message by using our chat widget in the bottom right corner of your screen.