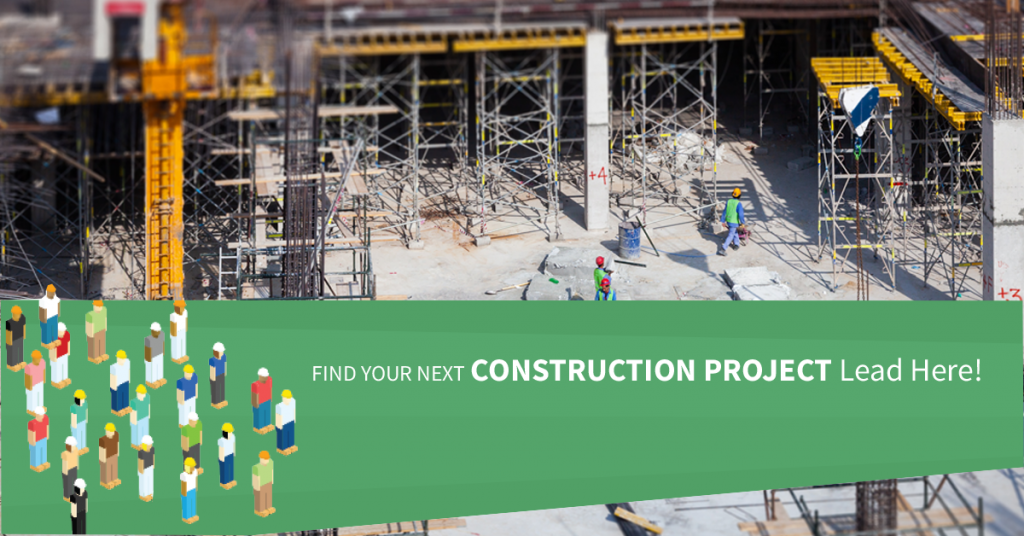 If you're trying to grow a construction business, you may fear that you have your work cut out for you. With over 7 million employees and nearly $1.3 trillion in annual revenue, the construction industry is one of the largest in the US.
While this may sound daunting, there's nothing to fear! Competition exists in any thriving market. You simply need to rise above it, which is more than possible if you get the right B2B lead generation tools.
But how can your business construct leads as efficiently as your team constructs commercial and residential buildings? That's what we're going to talk about here today. Read on to learn how goal setting, a well-maintained online presence, and construction-specific lead generation tools can help you to grow your firm and reach out to potential clients.
Set B2B Goals and Content Strategies
Before you can begin generating construction leads, it's essential that you set goals.
These goals should be:
Specific (provide exact specifications as to what you want to attain)

Quantifiable (have the ability to be measured so you know definitively whether or not the goal was met)

Realistic (can realistically be accomplished in the given timeframe with the technologies that you have)
"Generate a lot of construction leads" is a poor goal. It's vague and there's no real way to measure whether or not the goal was attained. "Generate 200 new high-quality construction leads in the next 24 hours and reach out to each of these leads via email" is a well-defined goal, but it isn't realistic.
A goal must be all three of these things in order to be a good one. If you're unsure about the goal that you're setting for your construction business, get a second expert opinion.
A Comprehensive Online Presence
As in any industry, having a comprehensive and up-to-date online presence is critical for construction businesses like yours. A well-maintained website and frequently-used social media page will allow other businesses to see that you're a firm that prides itself on using modern tools and strategies. Read on for some ways that you can ensure that your business is more appealing to potential clients than other companies in your niche.
Optimize Your Website
The first thing that you'll need to do when bolstering your online presence is to optimize your website. If it looks as though you haven't updated it in years, businesses that you want to hire you are going to believe you to be an out-of-date construction company. They will assume that your methods haven't been modernized for maximum efficiency. Even if this is an untrue assumption, you should work to avoid it.
Make sure that your website:
Has a user-friendly navigation page

Makes use of bold, clear text

Primarily features appealing colors (for reference, blue is a favorite of both men and women in all age groups)

Showcases some of your latest construction projects via 360 images and video

Discusses the tools, methods, and strategies that on-site workers use to maximize productivity

Uses small, easy-to-read paragraphs on home pages and landing sites
Generally, a user-friendly interface, high readability, and a demonstration of the sorts of buildings that you have in your portfolio are what will get your more leads.
Images and Video: A B2B Essential
In the previous section, we brushed on the fact that images and video are essential to your official website.
But did you know that 73% of businesses in the market for a construction agency will hire professionals that they see a video about over one that they don't?
Well, it's true! Because of this, you're going to want to incorporate a couple of different types of videos for your page.
First, you need some videos that showcase previous projects that you have completed.
3D-rendered images or multiple pictures from different angles of a building are awesome for showing off your work. However, it sometimes is difficult to take still photos of every attractive angle of a building.
Videos solve this problem by allowing your viewer to pause on any angle and take a good look at your on-site team's stellar work. The human eye is also drawn to movement, which means that more business owners will be engaged by your video than by a still image.
You also may want to consider posting an explainer video on your page, otherwise known as a testimonial. These videos feature someone talking about the way your construction company effectively brought their building's vision to life.
At the core of B2B marketing is person-to-person marketing, and seeing this video will allow your target audience to connect with a specific individual. They will think that since this friendly person in the video was satisfied with your services, they should take a chance on you.
Generating Leads Through Landing Pages
Engaging the businesses that you're marketing to on your webpage is important for a lot of reasons. It generates interest in your business, paints you as an authority, and ensures that people stay on your website long enough to learn about the many services that you offer.
However, one of the most important results of an engagement website is direct lead generation through your landing page.
You likely have (or plan to have) a form at the bottom of your home page where a person can enter their name, email, business information, and what kind of project they're interested in hiring your team for. This information allows you to view and assess an interested lead so that you can follow up later.
You can also set up email alerts to be notified when your website generates a lead! That way, you will always be in the loop.
Make sure that you do all you can to get visitors to fill out this form. This is, after all, how you're going to identify a lead. Tell people that they're signing up for an email list with coupons or that they're going to get a free consultation with the experts at your firm. In short, make sure that you provide an incentive for giving you information!
Use SEO to Boost Rankings
Between 71-92% of search engine users don't click past page one in Google after searching for a keyword. Because of this, you need to focus on boosting yourself up to the first page.
This is done by using Search Engine Optimization (SEO) services. SEO experts research the keywords that are most often associated with your webpage and create unique content based on these keywords. Search engine crawlers then see that you're most heavily associated with that keyword so that they can boost you to the top of the rankings!
SEO professionals also will link your post to relevant pages associated with construction (while not your direct competitors). Crawlers view your page as more credible and reliable and boost your rankings even further.
This helps you to generate leads by ensuring that more people click on your webpage. This traffic means that more people will find your landing page and fill out the form at the bottom!
Keep Up With Social Media
You also are going to need to set up a social media account and maintain it. Make sure that you share things frequently to the page so that you remain fresh in follower's minds. Links to your blog posts, information on new construction services offered, exclusive follower deals and offers, and images of recent projects all are good posts to make.
You also will want to seek out target businesses and reach out to them. Some pages that you may want to connect with include:
Construction companies in other locations (not your direct competitors)

Architecture firms who may be looking for an on-site team to construct their building

Businesses run by those who filled out the form on your landing page

Those who like the pages of your direct competitors

Those who have interacted with pages similar to yours

Leads generated by the Connect-A-Lead program (which we'll discuss in a moment)
Once you've connected with these people and businesses, make sure that you send them a direct message that lets them know you're there for their needs!
Construct-A-Lead: An Essential Tool for B2B Lead Generation
While having a good online presence is a great way to draw potential leads to you, it's also important that you actively search out businesses that are interested in hiring construction services. Construct-A-Lead is an online tool that allows you to take the bull by the horns and find leads, projects, and data proactively. Read on to learn how this software can be used to identify leads (and follow up on them).
Identify and Qualify Leads
While your website and social media page are great for drawing potential leads in, there are people out there that won't visit these pages. Despite this, they may be looking for a construction firm to work with. These are potential clients that you want to reach out to ASAP.
But how do you know who these businesses are? You can't just email businesses at random because they may hypothetically need commercial annexations or want to hire you to build a new apartment complex!
Construct-A-Lead solves this problem for you by generating and qualifying leads. It finds businesses that are currently looking to begin construction projects before sending them to our in-house team. Once the team receives these leads, the experts working within it personally verifies each and every one of the leads that have been generated. No bots are involved in the process at all, so you can rest assured that lead qualifications are comprehensive and accurate.
These leads are diverse, too. You will see hard-to-find residential construction projects as well as public projects. This includes university buildings, hotels, and hospitals. It also shows both public and private sector projects so that your construction workers will have a wide number of jobs to get started on.
Find Projects Before Your Competitors
After Construct-A-Bot's in-house team qualifies the leads found by the database, it delivers the research to you. The best part, however, is that you get to view these leads months before your competitors do!
The data generated with our online construction database is as current as it possibly can be. It generates current projects quickly so that you don't need to waste time searching for projects to bid on. As a result, you will be able to follow up on leads faster than competitors who aren't using Construct-A-Lead.
You can submit a bid months before your competitors even have access to a lead, which ensures that you will get the best projects on the market.
Use Integrated Marketing Tools
While you could shoot out an email to the businesses that come up on your lead generation form or try to find and follow them on social media, there are other ways that you can get in touch more directly.
Construct-A-Lead offers integrated marketing tools for a comprehensive experience. After searching for your business's specific target audience in our database, you can:
Use the contact name and phone number provided to call the lead directly

Share the contact name and phone number with your colleagues and superiors

Customize the way that you view our database with search criteria

Transfer leads into your external CRM system

Track sales efforts and the status of projects that you have taken on

Add customized notes to every project that you take on
All of these tools have been custom-designed for the efficiency of your construction business by those who understand the industry!
Download Your Data for Assessment
When all is said and done, you will likely want to download the data from our database into an easy-to-read format. This will allow you to analyze it thoroughly and save it to your CRM system.
Construct-A-Lead software allows you to download your data as an Excel document. This is a simple one-touch process that immediately integrates with your CRM. When you open the Excel file, you'll notice that the information for a project is consolidated into one row. This allows you to sort through the project leads easily and efficiently.
Construct Leads (and Buildings) Today!
There are a multitude of ways that you can generate leads for your construction business. While the industry is a large one, you're in complete control of whether or not your firm rises above the competition!
Now that you know some of the best strategies for B2B lead generation in the construction industry, it's time to get started. Sign up for a free test drive of Construct-A-Lead's many services. When you sign up, you can view five projects completely free of charge before purchasing an affordable plan that's tailored to your individual needs.
We look forward to hearing from you soon!